The Hunt
Day 1
Arrival at camp.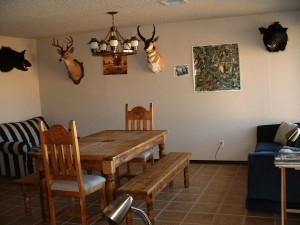 You and your party will arrive at camp on Friday afternoon for a quick meet & greet at the lodge with master guides Bob & Bobby Bergen.  After unloading your gear into a room at the lodge and claiming a bunk, you'll get a pre-hunt brief.  After a word about safety, you'll receive an overview of the ranch's layout, an overview of stand setups and an intel brief of the latest hog behaviors and sightings.
We will automatically show you where we've been seeing the most action recently, but you are, of course, free to hunt wherever you choose.  Everyone will then receive an Addictive Hunting contact card with our cell numbers so that you can notify us when your get your pig down.
Now is the time to lock and load.  Your hunt is about to begin!
Everyone gets into their vehicles in teams and follows us to your stand locations…and the hunt is on.  When you shoot your tusker, don't worry about trying to drag it, we will help you find it and pack it out.  After the evening hunt, the vehicle driver will pick his team up and return to the lodge.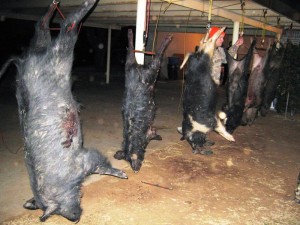 We'll hang your quarry for any photos you might want and butchering.  We even provide a butchering service, if desired.  For $40 we will gut, skin and quarter any hog and load it into your cooler while you sit back and enjoy the evening.
Day 2
An early morning wake up (if you're up to it) and after a quick bite, we're off to the stands in search of pigs.  After the hunt, you'll head back to the lodge for lunchtime.
You are free to spend the afternoon how you like — take a nap, watch tv, keep hunting your stand, or we can arrange a push through some known hog territory for some mid-day shooting.
We will then hunt the evening stands until dark.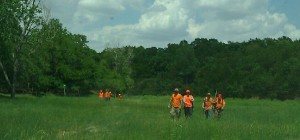 Day 3
One last early rise and we'll hunt stands until mid-morning (around 10am).  Return to camp, take any last photos, grab a bite to eat and it's time to pack up the gear and get ready for the journey home.  We'll hope you had a great time and come hunt with us again sometime!
&nbsp